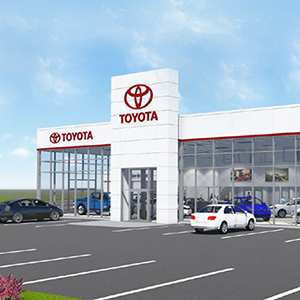 St-Georges Toyota is a dealership serving the whole region of St-Georges de Beauce and it is a first class enterprise that provides a vast inventory of new and used Toyotas. For over 40 years, we have worked hard to offer the best customer service possible and top notch maintenance. Our excellent network of professionals will do whatever it takes to show you our commitment to meeting all your needs.
A dealership in full expansion
Since opening in 1981 we have constantly worked to offer our loyal customers only the very best available on the market. At our dealership you will find a cutting-edge show-room, an unbeatable financial department, as well as a high-quality parts and service department. In an effort to continue to better serve you, we have decided that as of summer 2016, we would move into a new building.
A team that is always ready to listen
Our devoted sales staff and expert mechanics at St-Georges Toyota are here to provide you with a pleasant buying experience and advantageous financing plan. We make sure that our employees are always fully trained and we guarantee that they know our vehicles inside and out so that they can teach you all about the newest technological aspects of your car. Whether you need a new Toyota, some maintenance for your current vehicle, or a car loan, the team at St-Georges Toyota is always ready and waiting to help.
Cutting-edge technology
At our all-new dealership, other than a just a modern new show-room, we have a workshop that is full of the latest equipment available on the market. We also want to make sure that our website offers you the most complete interactive experience possible: information about the vehicles, the Auto-Alert form, etc. Not to mention, if you need to finance your purchase, you should know that you can even apply online!
At St-Georges Toyota we do whatever it takes to confidently set you up behind the wheel of your new vehicle. Come and meet us at our dealership and talk to one of our team members today!